The Sequoyah District Presents
Surviving Camp Westin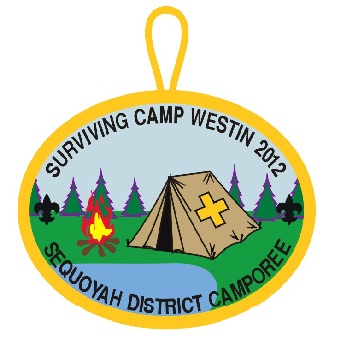 October 12-14 at Camp Westin
Registration starts at 5 p.m. on Friday. Closing will be held at 11 a.m. on Sunday.
Registration: $12 per Scout and $12 per adult leader.
Registration will be due by September 28th at 5 p.m.
Your Troop is invited to join the rest of the Sequoyah District in a Fall Camporee, a fun and exciting event that your boys won't want to miss.
SURVIVNG CAMP WESTIN. What does the theme mean? There is a story here. A plane has crashed into the hills of Red Top Mountain. Your Patrols are the only survivors. The first phase is the survival skills needed to set up a base camp. The skills required for this portion will include: 1) First Aid, 2) Shelter Building, 3) Identifying dangers you might face, 4) Fire Building, and 5) Water Acquisition. Once you have survived this portion it is now time to move to safety. The only problem is the obstacles that the Patrols will face. There will be 5 challenges to overcome before the patrols are "out of the woods". These obstacles are to encourage teamwork and will not require any specific skills. In short they are games with a purpose. At the end of the day we have a camp wide game for the fun of it. Saturday evening there will be a campfire for fun and spirit. Each patrol will be encouraged to participate. All program materials for the day will be supplied by the Camporee Staff. No materials brought to Camp by the Patrols will be allowed.
If you should have any questions or concerns, please contact me Chairman Tom Melton at tmelton729@bellsouth.net or 770-630-2617 cell.
Leaders Guide HERE
BSA Medical Form HERE
ATTENTION: To ensure that you register properly, please press "Continue" on all pages, including payment page. If you don't wish to pay online, click the "Pay Offline" option and bring/mail payment to the Rome or Dalton office within 5 working days of registering (no convenience fee will be charged.) You'll know you've completed online registration when you are asked to print a receipt and you receive a confirmation email. Additional information will be sent to you once your registration is confirmed.