Wood Badge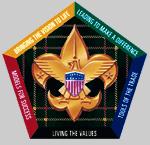 What is Wood Badge?
It is leadership training for Cub Scouting, Boy Scouting, Venturing, Exploring and Professional Scouters.
When and Where is Wood Badge?
March 14-16, 2014 – All Day (Friday, Saturday, Sunday)
May 2-4, 2014 – All Day (Friday, Saturday, Sunday)
Camp Sidney Dew
Attendance at both weekends is required.
How Much Will It Cost?
Total course fee is $250.00 and is due by February 14, 2014. A $50.00 deposit will hold your place in the course and is due at the time you submit your registration.
Early Bird Registration is available for $225.00 if paid in full by January 20, 2014.
The course fee covers meals, presentation material, and Wood Badge participant ball cap and activity shirt.
For more information, contact:
Kim Hulsey
Cell: 706-767-3716
E-mail: pkphulsey@bellsouth.net
DOWNLOAD BSA HEALTH FORM HERE
NOTE: WHEN REGISTERING, MAKE SURE YOU CLICK THROUGH ALL THE SCREENS. IF NOT, YOUR REGISTRATION WILL NOT GO THROUGH. THE LAST SCREEN YOU SEE SHOULD BE THE COUNCIL WEBSITE HOMEPAGE. THE SYSTEM WILL ALSO SEND YOU A COPY OF THE RECEIPT TO THE EMAIL ADDRESS YOU PROVIDED. IF PAYING IN THE OFFICE, PLEASE BRING COPY OF RECEIPT OR PAYMENT WILL NOT BE ACCEPTED.