District Chairman: Donna Williams
District Commissioner: Jon LaVie
District Executive: Lea Fantom
District phone:770-546-4939
District email: lea.fantom@scouting.org
Follow this link to check out our Sequoyah Facebook page.
---
---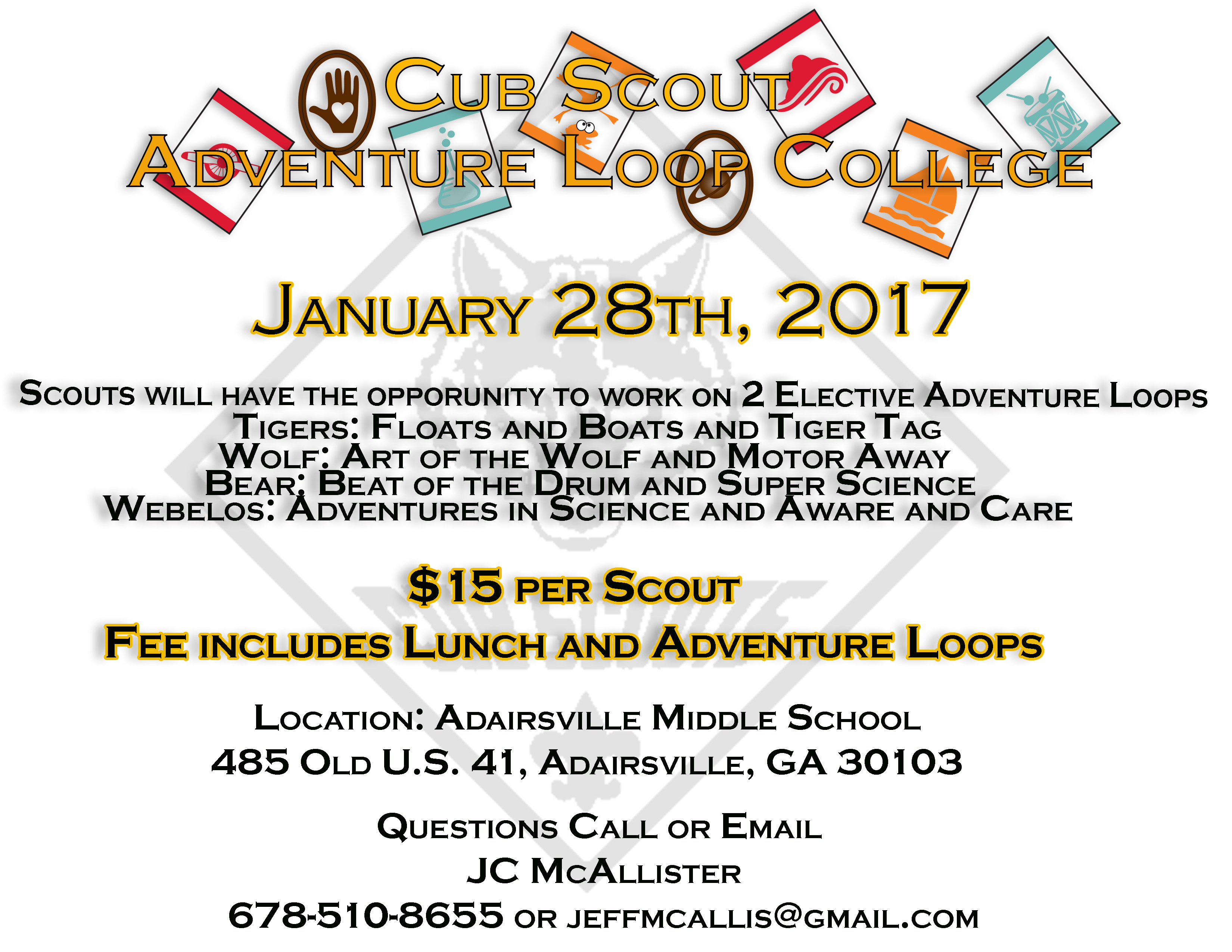 To Register for this amazing event Click Here
---
Recharters are due TOMORROW December 1! Journey to Excellence worksheets are also due! Both for 2016 AND 2017 (we want to see what you have done AND what you plan to do- remember, it's a TOOL!)
Too often we are overly modest and afraid to toot our own horns about the great things we accomplish with Scouting. But this is one case in which it is perfectly acceptable- preferable, even- for you to brag your hearts out about the great things that your leadership teams and Scouts are accomplishing! You will be helping the District and all the Packs, Troops, Crews, and Posts develop and deliver better programs for their Youth and Communities.
---
Cub Scouts!
Come to the Sequoyah District Cub Lock In!
Click HERE for more information and to Register!
It's a great opportunity for parents to finish their Holiday Shopping.....
---
Thank you to everyone who made Popcorn Distribution such an easy success this year!
Now go out and get that stuff delivered before Thanksgiving!
---
ATTENTION ALL LEADERS!
You MUST have your Position Specific Training before December! You are supposed to have this training within 30 days of registration. No one who does not have their Position Specific Training will be allowed to recharter in December.
Here are the upcoming trainings:
ITOLS- required for Scoutmasters and Assistant Scoutmasters
OWLS- recommended for Webelos leaders
BALOO- recommended for ALL Cub Scout leaders
Scoutmaster Training will be available in November, the date is TBD. We will keep you updated!
If you have questions, please contact Amy Quarles, Sequoyah District Training Chair, 770-547-6511.
---
---