Coosa Camporee Scouts BSA fall 2019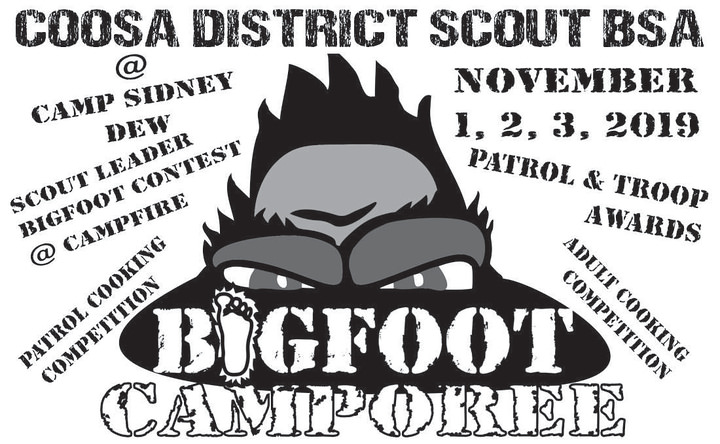 Coosa Camporee Scouts BSA fall 2019
Registration has been extended until 10/30
Coosa District Bigfoot Scouts BSA Fall Camporee at Camp Sidney Dew is a weekend event open to registered Boy Scouts of the BSA. Registration is available online through the NWGA council website (www.nwgabsa.org). Registration costs $10 per Scout. $0 Per Adult Leader. Registration must be completed by October 30, 2019.
Registration Cost includes a patch for youth.
There is not an "Early Bird" price, nor is there a late fee. Due to the type of activities planned we will not be able to accept any last minute registrations or "at the door" additions. Thanks for your understanding. Registration should be as a troop. All fees need to be paid online or within 10 days of registration by mail or at the local Scout shop. All Adults on camp are required to have completed current BSA Youth protection.
No meals will be provided by the event. Units are responsible for cooking and cleanup of all meals for their members.
Additional Event Patches are $3 each. All Registered Youth will receive one Event Patch. Adult Registrations do not include an Event Patch. Additional Patches are available at the event , while Supplies Last.
| File Name | Description | |
| --- | --- | --- |
| bsa med 680-001_ab.pdf | | Download |
| Coosa District Bigfoot Scouts BSA Fall Camporee at Camp Sidney Dew 2019.pdf | | Download |
| Position | Name | Telephone | |
| --- | --- | --- | --- |
| Event Coordinator | Max McAdams | (706) 346-5294 | Email |