Golden Whippoorwill Event Pass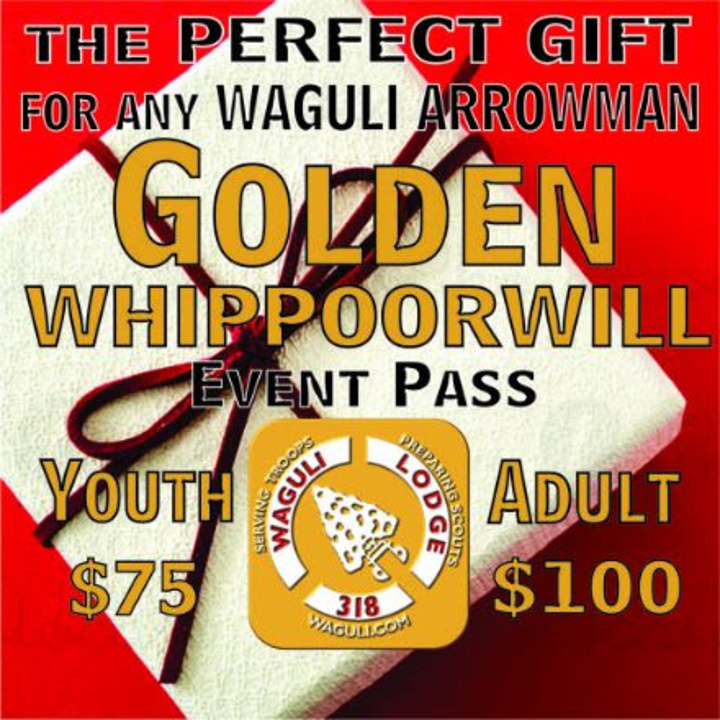 75 th Anniversary
A Great Christmas Gift for any Lodge Member!!
Golden Whippoorwill Event Pass
Youth $75 - Adult $100
Available for purchase now through January 31, 2020
Waguli Lodge's one and only 75 th Anniversary Golden Whippoorwill Event Pass.
All Waguli Events and your 2020 Lodge Dues will be included in this amazing deal!
The Golden Advantages of this incredible Opportunity are Crazy!!
Event Registration Cost for 2020 Waguli Spring PowWow Weekend, 2020 Waguli Ordeal Weekend, 2020 Waguli Fall Fellowship Weekend, and 2020 Waguli Winter Annual Banquet are covered! There is even more – each Golden Whippoorwill Event Pass Holder will receive one Golden Whippoorwill Flap, One Event Patch for each of the four events and have their 2020 Annual Lodge Dues paid!
The Deals don't stop there, to make this even better – At the time of purchase;
Pass Holders have the option of pre-purchasing a ton of great patches including:
1 - Additional Event Specific Patches for any and/or all 4 Waguli Events,
2 - Special Edition (Pass Holders Exclusive), Gold Bordered, Additional Event Specific Patches for any and/or all 4 Waguli Events
3 - Waguli Lodge Edition SR-9 Conclave Flaps
4 - Lodge Honor Flaps for the 2019 Year (per Lodge Quantity Rules)
5 - Special 75th edition of our lodge flap
Get yours today !!! Go to the Order form Below and become
2020 Golden Whippoorwill Event Pass Holder
| Position | Name | Telephone | |
| --- | --- | --- | --- |
| Event Coordinator | Max McAdams | (706) 346-5294 | Email |