National Jamboree NWGA Contingent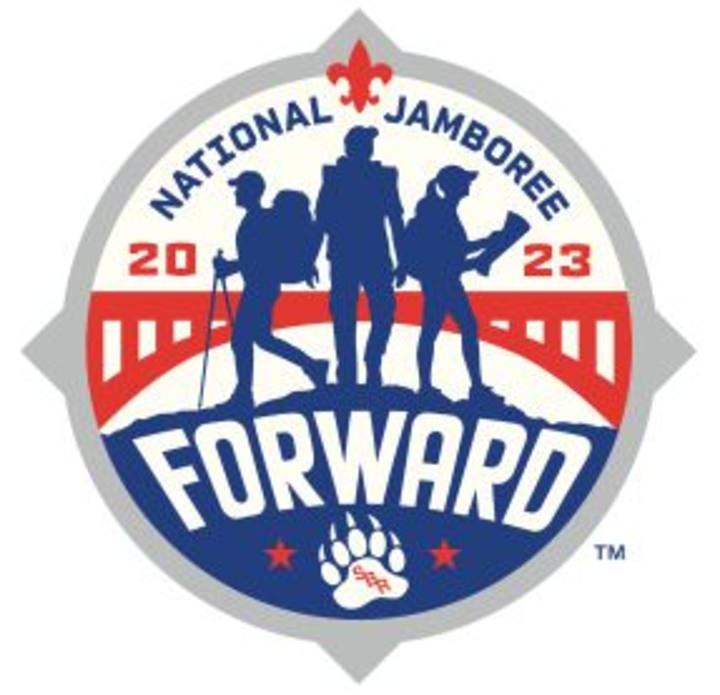 National Jamboree NWGA Contingent 2023
Scouting's flagship event is one-of-a-kind. It's a gathering of approximately 20,000 Scouts, leaders, and staff that showcases everything that is great about the BSA and its members. Over the course of 10 summer days, the Boy Scouts of America comes together. The result is the national Scout jamboree. The jamboree will be held in July of 2023 at the Summit. To keep up with the latest information, visit the Summit website.
Scouts and Scouters will explore all kinds of adventures—stadium shows, pioneer village, Garden Ground hikes, adventure sports, patch trading, and more—in the heart of one of nature's greatest playgrounds. With 10,000 acres at the Summit to explore, there's no shortage of opportunities to build Scouting memories. The jamboree is the best of Scouting rolled into 10 days of fun, friends, and adventure. You won't want to miss out on this incredible Scouting experience.
Would you like to request a Jamboree Promotion Visit for your Troop, Crew, or Ship? We'll be happy to come visit! Just fill out the form found at this link and we'll be in touch!
Learn More about the National Jamboree
Council Contingent
The council is looking forward to taking a contingent to the National Jamboree! The contingent will head to the Summit for 10 days of activities ranging from shooting sports, mountain biking, zip-lining, rock climbing, white water rafting and more!
Northwest Georgia Council Contingent Registration:

go to the red button at the bottom of this page that says REGISTER TODAY
All fees for the Jamboree will be paid through the contingent payment site. Upon registering with our local contingent, you will be prompted to make a $400 deposit. On the site we have a recommended payment schedule, and strongly encourage that payments made match the accrued amount based on the recommended fee schedule. All participants will need to be fully paid by March of 2023.
To ensure that we send a full contingent, make sure that you highlight the opportunity to attend with other families in your unit.
Please note that the Jamboree registration cost will increase 14% after October 31st. Base registration costs will not change for those that are registered through the national system prior to October 31st. We are encouraging all potential registrants to apply online through the national site prior to the deadline to help mitigate costs.
National Scout Jamboree Registration:

Follow this link to register with the Jamboree
The jamboree is open to youth ages 12 and up who meet the participant qualifications on a first come first serve basis. All Venturers must be currently registered in a Venturing crew and meeting Venturing age requirements.
Scouts will be assigned to a jamboree troop consisting of no more than 36 Scouts and at least four adult leaders. Every Scout will be a member of a patrol within the troop. Contingent members will be required to attend some troop meetings (as scheduled by the jamboree troop Scoutmaster), submit a completed jamboree medical form signed by a licensed physician and indicating compliance with specified immunizations and attend a contingent shakedown and orientation outing at Camp Sidney Dew on April 28-30, 2023.
Adult Leadership:
We are pleased to announce Frank Fetzer has been chosen as our primary Scoutmaster for our Council's Jamboree Contingent. Our Council's Jamboree Committee is in the process of making final selections and recommendations for additional Adult Leader positions, including key Scouters to help support additional Northwest Georgia Jamboree Troops as needed. Final leadership selections will be announced in September of 2022.
Jamboree Expenses and Payment Schedules
The price for the National Jamboree is $1,285 for each youth and adult who wishes to attend and increases to $1,500 after November 1, 2022. The Northwest Georgie Jamboree Committee has set a Council contingent fee of $2,100 which includes:
National Jamboree Fee

Transportation Fees

Contingent Tents

Contingent Uniform Supplies (hat, patch, activity shirt)

Contingency expenses
As a part of this, a payment schedule has been developed that aligns with the invoicing deadlines established by the National Jamboree Committee. There are four installments of $400 each, and a final payment of $500 due according to the schedule below:
Payment 1: With registration

Payment 2: October 15, 2022

Payment 3: December 1, 2022

Payment 4: January 15, 2023

Payment 5: February 28, 2023
Camperships and Financial Support
National Jamboree Committee has developed camperships (scholarships) for youth participants to assist in the cost of attending the jamboree. To apply for a campership, the parents/guardians of youth should fill out the campership application for their youth participant. Campership applications should be submitted no later than as stated on the campership application portal. Applicants will be notified via email if a campership has been awarded. Changes to the campership application are not permitted once submitted. The link to the National Jamboree Campership Resource Page can be found here: https://jamboree.scouting.org/participants/scholarships/
The Northwest Georgia has also developed a way for Scouts to help pay for their trip to the National Jamboree. This fall, Scouts attending the National Jamboree are eligible to help pay their own way through popcorn sales. For Scouts registered for the National Jamboree with both the Northwest Georgia Council and the National Jamboree who are interested in selling popcorn to help support their trip, please go to:
https://www.trails-end.com/scouts
Once there, do the following to register:
Select "Register Now"

Select the "Scout" registration button

District is "Jamboree"

Unit is "Jamboree"
Some important notes about the Popcorn Sale for the Jamboree and the Commission structure for Jamboree Scouts:
Commissions must be applied to Jamboree fees being paid by our Council (no money will go back to the Scouts directly)

30% for Online Direct Sales (product shipped directly from Trails-end to the Customer)

38% for all other sales.

Participating Scouts are eligible for all prizes.

Should a Scout withdraw from the Jamboree, their commission will be disbursed to their Unit as a part of the normal popcorn sale protocols.
Jamboree Staff
Registration to serve on jamboree staff is open. Serving on staff is a rewarding experience that lets you help make a young man or young woman's jamboree experience one they'll never forget. It's not all work, though. You'll get plenty of time to enjoy the jamboree fun. Visit the jamboree website for more information. Volunteer staff may select to work the entire jamboree or the first or last half of the jamboree. The registration fee does not include transportation; staff ages 16-25 can pay a discounted prices to work the entire jamboree.
The Summit Bechtel Family National Scout Reserve
In 2009, the BSA purchased 10,600 acres of property adjacent to West Virginia's New River Gorge National River area to create the Summit Bechtel Family National Scout Reserve. The Summit is the new home of achievement, adventure, and innovation in Scouting.
Visitors
The excitement of the jamboree isn't limited to Scouts. The Summit features a large visitor area, where day-users can try out some of the activities that the Scouts are dialing in around other parts of the Summit. Whitewater rafting and kayaking, rock climbing and bouldering, and mountain biking are just a few of the activities offered at the Summit. There's also skateboarding, BMX, shooting sports, and zip-line challenge courses. And that's just the beginning!
Order of the Arrow: Operation Arrow 2023
Operation Arrow is an opportunity to experience the 2023 National Jamboree while providing service with your fellow Arrowmen.
The Jamboree will take place July 19-28, 2023 at the Summit Bechtel Reserve in West Virginia.
Arrowmen interested in Operation Arrow can register at jamboree.scouting.org by selecting "Order of the Arrow Service Corps" as their job choice.
Get ready to put on your Zesty Blue's and provide meaningful service in support of the 2023 National Jamboree while having fun and making new memories with your fellow Arrowmen!
Click here to register for Operation: Arrow 2023