Pompie Celebration of Service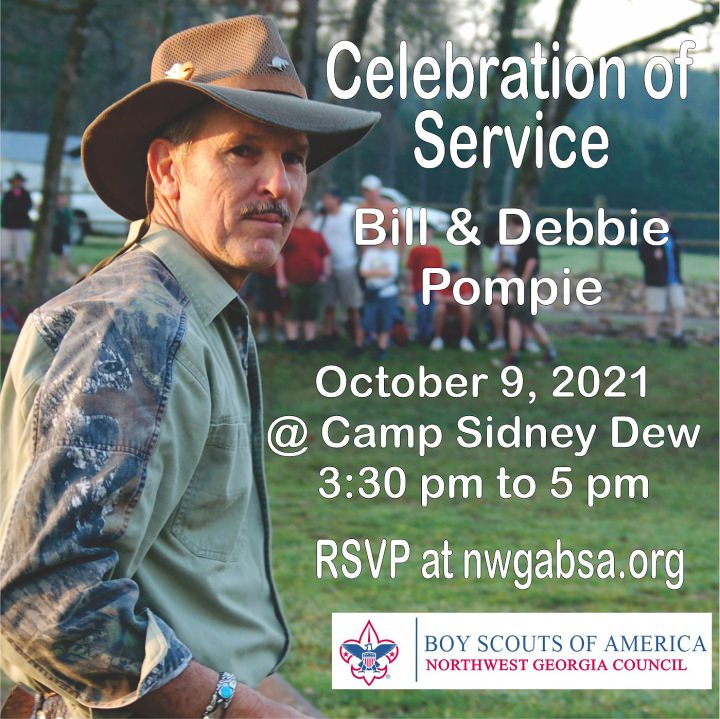 Date/Time:
Oct 9, 2021 3:30 pm to 5:00 pm
Location:
Camp Sidney Dew
3624 Everett Springs Road
Armuchee, GA 30105
Location Phone: 706-234-2393

Celebration Invitation!
After nearly 20 years of outstanding dedicated service to the Northwest Georgia Council, Ranger Bill and Debbie Pompie have decided it's time to pass the daily responsibilities and duties of Camp Sidney Dew to the next generation and to begin enjoying a well-deserved retirement. Come join us at Camp Sidney Dew on Saturday, Oct. 9 from 3:30 to 5:00 as we celebrate the Pompies' amazing career at CSD and thank them for all they've done to make it one of the premier camping facilities in the Southeast! Let's be sure Bill and Debbie know how much we love them and wish them the best as they enter this next exciting phase of their lives together. Details are as follows:
When: Saturday, October 9, 2021 3:30-5:00
Where: Camp Sidney Dew
Costs: No Cost, but guests are invited and welcome to stay for dinner ($10 per person) as part of the Order of the Arrow Fall Fellowship as well as the Camp Sidney Dew Alumni Association weekend. Waguli Lodge will be conducting a patch auction after dinner.
If you are already attending OA Fall Fellowship your dinner cost was included in your event registration.