Volunteer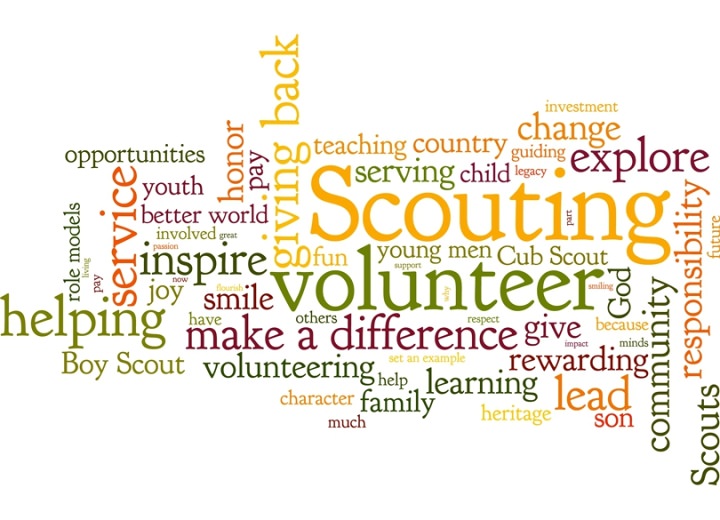 Scouting Programs are administered by trained qualified adult volunteer leaders. Opportunities for registered adult volunteers exist at all levels of Scouting – the unit level, the district level, and council level.
---
Unit Level
Direct Contact Leaders
The Direct Contact Leaders are the key part in the running of the unit. Cubmasters, Den Leaders, Scoutmasters, and Crew Advisors provide direct leadership to the youth. They also set the example in everything they do, including uniforming, actions, and behaviors.

Assistant Leaders
The Assistant Leaders' main responsibilities are to support and assist the direct contact leaders in the achievement of goals. They help the leader with the unit, making sure that the youth succeed. They also set a good example in thier actions and behaviors.

Committee Members
This is the group of parent volunteers that put the youth's program into action. They provide logistical support, planning and so on, as well as guidance into the various 'behind the scenes' aspect of the unit.

Parent Volunteers
The parent volunteer is the most critical piece to supporting the unit and the youth. The parents are the ones who give their time to attend campouts, drive scouts places, and support the unit in many other ways. Without the parent volunteers, the units and the scouts would not be successful.
---
District Level
Commissioner Service
Commissioners work with the units to provide the link between the district and the unit, providing program support whenever necessary to help the unit. They insure that the knowledge that the unit needs is passed from the district to the unit, and vice versa.

District Committee
The District Committee helps the units within the district achieve their goals and run a quality program. There are various sub-committees within the District Committee including Finance, Membership, Training, Advancement & Recognition, Activities & Civic Service, and Camping and Outdoor Promotion.

Merit Badge Counselors / Skill Specialists
Merit Badge Counselors and Skill Specialists are individuals who have special knowledge or skill in a particular job, hobby, or interest, and help youth achieve goals in these particular areas of their expertise.
---
Council Level
Support to the Camp
Each year, the Northwest Georgia Council supports several hundred scouts and scouters as they experience the adventure of Scout Camp. However, camp could not occur without the help and support of many volunteers who spend countless hours at camp helping to maintain, enhance, and prepare camp each year.

Committees
There are many council level committees that play a major role in the operation of the council. These include; Administration, Asset Evaluation, Budget, Camping, Endowment, Finance, Manpower, Marketing, Membership, Operations, Outreach, Program, Properties, Training, Unit Service and though not a committee, the Executive Board.
For information on becoming a volunteer, email info@nwgabsa.org.
| File Name | Description | |
| --- | --- | --- |
| Volunteer opportunities | Volunteer opportunities flyer | Download |