Wilderness First Aid November 2023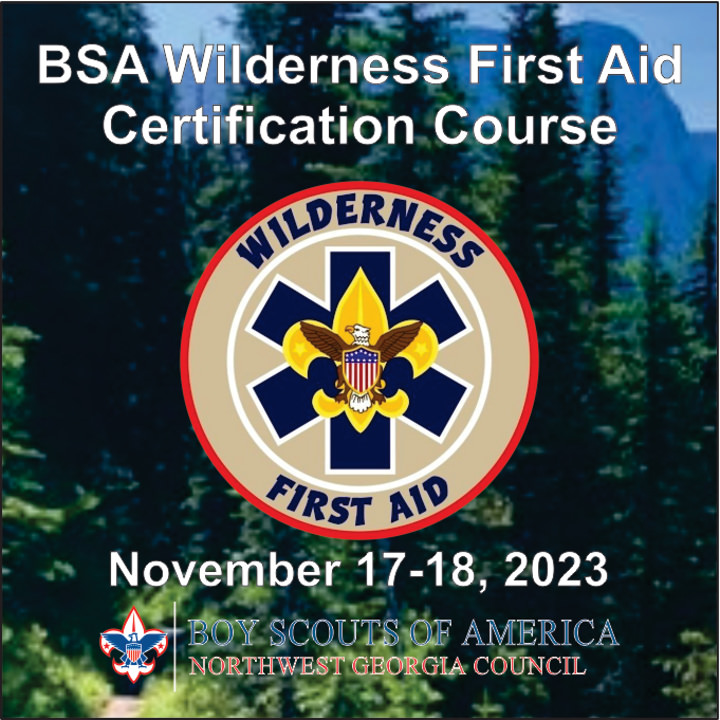 Date/Time:
Nov 17, 2023 7:00 pm to Nov 18, 2023 8:00 pm
Location:
Camp Sidney Dew
3624 Everett Springs Road
Armuchee, GA 30105
Location Phone: 706-234-2393

BSA Wilderness First Aid Certification Course
November 17-18, 2023
Check-in 7pm Friday. Course starts at 8pm
Departure by 8pm Saturday
Do you travel to remote locations?
Are you 14 years old or older?
Do you have a passion for First Aid?
We have the perfect training for you!
Sign up for the NWGA BSA Wilderness First Aid Course and learn how to manage common injuries and illnesses when medical care is an hour away or more. This includes 16-hour BSA WFA Certification Course and CPR/AED Certification meeting BSA standards for High Adventure Bases through the Emergency Care and Safety Institute (ECSI).
Pre-registration required. Class Size is limited to 20 people
Cost: $50.00 per person (includes meals, WFA & CPR e-books and certifications)
Lodging in lakeside cabins
No uniform required
Topics To Be Covered:
CPR & AED
Types of Delayed-help Situations
Emergency Action Steps
Checking the scene, patient, and resources
Contacting help
Caring for the patient long term
Patient assessment and Record Keeping
Preventing Disease Transmission
Prioritizing Care
Carrying Out the Plan
Deciding to Evacuate
Treatment of injuries such as: Wounds, Head and Spinal Injuries, Extremity Injuries, Abdominal Injuries, Sudden Illnesses, Major Bites and Stings, Burns, Altitude Illnesses, Shock
Please contact Virginia Yockey at yockey11@gmail.com if you have any questions about the course.