Scouts in Action - NOVA STEM Day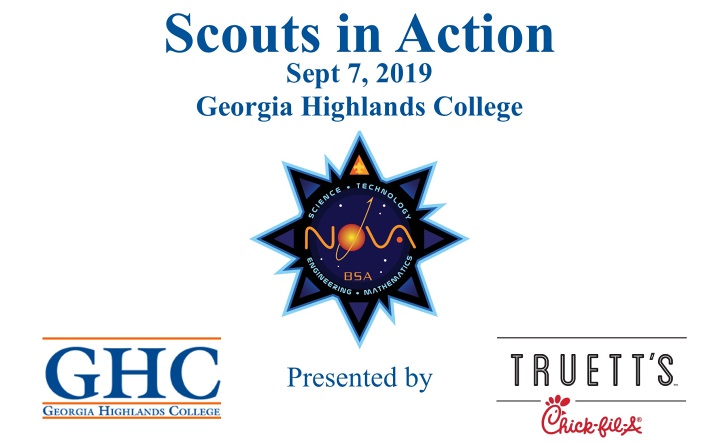 September 7, 2019
9am-2pm
Georgia Highlands College - Rome, GA
---
On September 7, 2019, your Cub Scout will take a GIANT LEAP in ASTRONOMY, ROCKETRY, ORIENTEERING, ENVIRONMENTAL SCIENCE, and MARINE ECOSYSTEMS!
Open to ALL Cub Scouts
Work towards the NOVA Science Everywhere Award
Fish on Paris Lake (fishing gear not provided)
Siblings and friends are welcome
Chick-Fil-A available for purchase
Only $5 per participant
Learn about propulsion and aerodynamics by building your own water powered rocket. Visit the Georgia Highlands Bishop observatory and learn the science of celestial exploration. Explore aquatic ecosystems with a nature hike through wetlands. Navigate your way with the help of 2,000 year old technology in orienteering. Catch a fish on Paris Lake.
An adult partner is required to attend for for all Lion and Tiger Scouts.
An adult partner is required to be onsite for Wolves and Bears.
No charge for adults
Wear shoes appropriate for walking.
Bring an empty 2 liter soda bottle for the rocket.
Bring a water bottle for hydration, sunscreen, insect repellent, and fishing gear.