Coosa Banquet
Date/Time:
Apr 23, 2020 6:30 pm to 8:30 pm
Location:
Westminster Presbyterian Church
1941 Shorter Ave
Rome, GA 30165

The 2020 Coosa District Banquet is being held on Thursday April 23 at Westminster Presbyterian Church Rome GA.
1941 Shorter Ave, Rome, GA 30165
---
This is our chance to recognize units and individuals who have made a real difference through their dedication and hard work for scouting in the Coosa District. The District Award of Merit, District Youth Leadership Award, JTE Units, Service Awards, Training (Adult and Youth), other individual and unit awards, and the 2019 Eagle Scout Class will be presented.
Your participation is needed:
We love to show off Scouting in the Coosa District. We need photos/videos of your unit activities. Please submit photos by April 1st to coosa@nwgabsa.org.
If you have training, leadership, or unit awards to be presented please contact Jonathan Rogers at jonathan.rogers364@gmail.com by April 1st. We want to recognize ALL our leaders and units.
If you have a nomination for the District Award of Merit or the District Youth Leader Award of Merit please send to Jan Pearson at jlp.coosa.nwga@gmail.com by April 1st.
Table Decorating Contest: Packs, Troops and Crews are encouraged to participate in the table decorating contest during this event! This year's theme is the same as the Coosa Twilight Camp "Expedition Earth", and winners will get to hold the traveling trophy for bragging rights until next year's banquet.
Tickets: Tickets are $10 per person. Please reserve your spot by Sunday, April 26th so that we can give our caterer a head count as soon as possible. Reservations can be made online at nwgabsa.org or at the scout office. For more information, contact Amanda Ruocchio at prewett86@gmail.com.
Register Below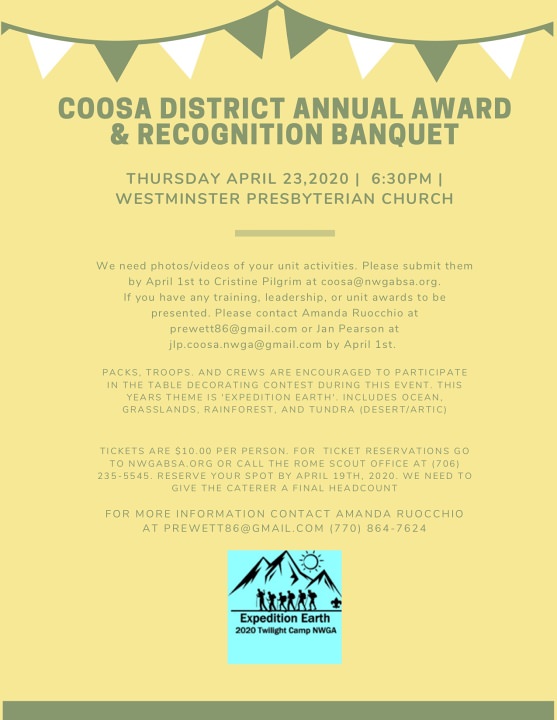 | File Name | Description | |
| --- | --- | --- |
| BSA National Outdoor Challenge Application | BSA National Outdoor Challenge Application | Download |
| Conservation Good Turn Certificate Application | Conservation Good Turn Certificate Application | Download |
| Coosa Youth Leader Award Application | Coosa Youth Leader Award Application | Download |
| District Award of Merit Nomination Application | District Award of Merit Nomination Application | Download |
| National Summertime Pack Award Application | National Summertime Pack Award Application | Download |