Coosa Pinewood Derby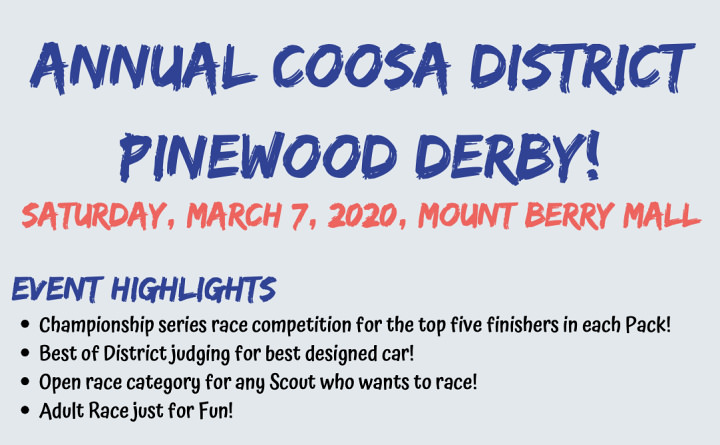 Date/Time:
Mar 7, 2020 9:00 am to 2:00 pm
Location:
Mount Berry Sqaure Mall
2770 Martha Berry Hwy
Rome, GA 30165

District Championship Race
Best Design Award
Open Race Division
---
Registration 9:00am - 10:30am
Race begins at 10:30am
Registration Fee: $5 and 1 can of food
Mount Berry Square Mall food court
---
Championship Race is open to all top 5 pack finishers
Open Division for all Scouts
---
District Rules
Car Specifications:
Width — 2 3/4″
Length — 7″
Weight — Not over 5 ounces
Width between wheels — 1 3/4″
Bottom clearance between car and track — 3/8″
Rules:
Wheel bearings, washers and bushings are prohibited.
The car shall not ride on springs.
Only official Cub Scout Grand Prix Pinewood Derby wheels and axles are permitted.
Only dry lubricant is permitted.
Details, such as steering wheel and driver are permissible as long as these details do not exceed the maximum length, width and weight specifications.
The care must be free-wheeling, with no starting devices.
Each car must pass inspection, the owner will be informed of the reason for failure, and will be given time within the official weigh-in time period to make adjustment.
After final approval, cars will not be reinspected unless the car is damaged in handling or in a race.