Super Saturday Training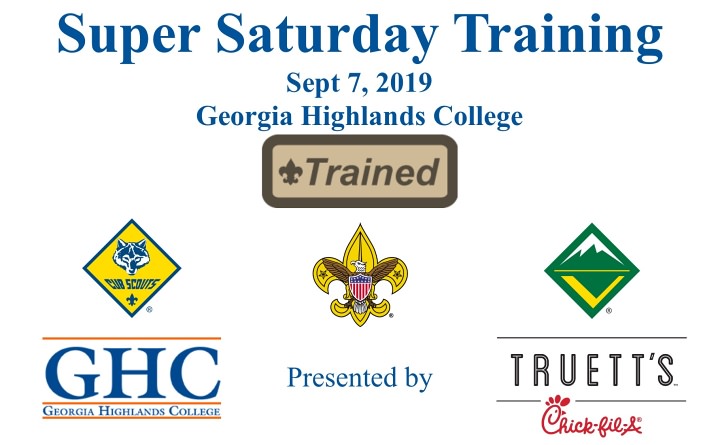 Date/Time:
Sep 7, 2019 9:00 am to 12:00 pm
Location:
Georgia Highlands College
3175 Cedartown Hwy
Rome, GA 30161

Every Scout Deserves a Trained Leader!
Scout Leader Training 9am-12pm
Trainer's EDGE 9am-early afternoon
Lunch will be available for purchase from the Chick-Fil-A food truck.
---
Scout Leader Training
Training for any adult volunteer for all positions.
Den Leader
Assistant Den Leader
Cubmaster
Assistant Cubmaster
Crew Leader
In addition to position specific training learn how packs and dens operate, the patrol method, retention, online advancement and Scoutbook. Network with experienced leaders and exchange ideas.
---
The Trainer's EDGE
The Trainer's EDGE replaces the Trainer Development Conference (BSA 500) as the required train-the- trainer course for Wood Badge and NYLT staffs. The purpose of the Trainer's EDGE course is to provide and help develop the platform skills of a trainer. It is meant to supplement the practice offered through Wood Badge and NYLT staff development, with a focus on the participant, while raising the level of skill a trainer brings to the staff experience. Only practice can polish these skills, but this course is intended to "train the trainer" on behaviors and resources while offering hands-on experience in methods and media.
---