Webelos in the Woods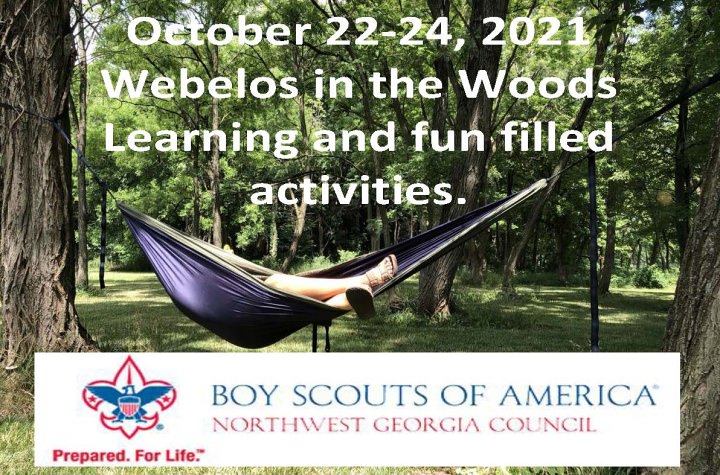 Camp Sidney Dew
Come Join Us at Webelos in the Woods
October 22, 23, & 24, 2021
---
Webelos and Arrow of Light participants and Scouters
will learn camping skills that prepare you to move up to
Scouts BSA. Test your camping skills along with your whole patrol
and see how you measure up! Earn some much needed
Advancement along the way…
This event is open to all Webelos and Arrow of Lights. ALL SCOUTS MUST BE PREREGISTERED TO ATTEND. NO WALK-INS WILL BE ACCEPTED. Your online registration and payment are as follows:
Early Bird Registration – Register BEFORE October 9, 2021
Early Bird discount: $20.00 per Scout starting
September 19, 2021.
Register on October 9th until October 13th Extended to October 20th
CUTOFF Regular Registration fee: $25.00 per Scout
Additional patches available: $5.00 each
If you have any questions, please contact Dawn Gentry at 706-847-5887 or email dawng_sanco @optilink.us. You may obtain assistance at our scout office or from Robert Sutton,robert.sutton@scouting.org for registration.
Get ready to have a great adventure in the outdoors! See you at camp!
---
Webelos in the Woods October 22, 2021 to October 24